When I was in 5th grade, I had my first trip to the orthodontist, and it would not be the last. From then through my sophomore year of high school, I saddled up into the orthodontist's chair for the works: I had an expander on the top of my mouth to make the roof of my mouth wider; I needed braces to straighten my teeth; and I had to have the bottom row of my teeth pulled together to create 2 "front teeth," since I had ever only gotten one. It was, in a word, miserable.

While reading Raina Telgemeier's Smile, I was momentarily transported back to those times. This graphic novel follows Raina as she prepares to go to her first trip to the orthodontist. But it won't be that simple: just days beforehand, she and a friend were racing in her yard, and she fell, knocking out her two front teeth. From there, Raina will need false front teeth, then braces, then headgear, then periodontic work, and finally, like me, will have a much-desired result at the end.

This graphic novel, besides being utterly relatable to anyone who has been through the braces experience, also delves into the issues of fitting in and being "cool" at school. Raina was very afraid to be who she truly was throughout the story, but when she finally hits high school, she throws herself into her passion of art, and she finds that she can make real friends. She doesn't need to pretend to be someone she isn't in order to fit in.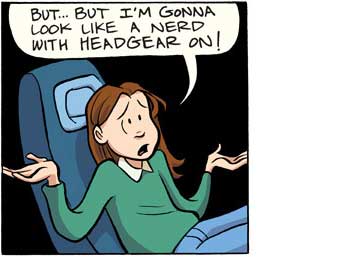 The art in Smile is sweet and has huge appeal for middle schoolers, particularly those who may never have tried a graphic novel before. Telgemeier is the artist behind the graphic novel adaptations of Ann M. Martin's The Babysitter's Club, and her fun, colorful, and somewhat fluffy style is highly appealing. This story translates very well to the graphic form, much more than I think it could have in a traditional novel format.

I would hand this book off to middle schoolers who are looking for someone to relate to, especially those who will begin the milestone years known as the brace-face years. Likewise, this is the sort of book I would hand to older readers, too, who can relive those years and be able to remember those days (fondly or not). There's just enough lesson in here to make a point, and I never felt it came off as didactic. Rather, this was a candid and humorous look at one of the sweet little deals that come with growing up. This quick read left me eager to dig into more of Telgemeier's books.