Welcome to the June edition of AudioSynced. June was National Audiobook Month, and as you'll see below, it was well celebrated through the blogosphere. If you posted anything about audiobooks this month, share your link in the comments, and we'll add them!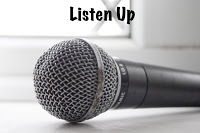 Audiobook Sync, a community for audiobook listeners, is kicking off its FREE summer of downloads July 1. Hop on here and download two free audiobooks per week, July 1 – September 1. They're pairing a current fiction selection with a classic to give you a little taste of everything.
We've already told you about two of our favorite audiobook blogs. Here's another: Audiobook DJ. This is another blog completely dedicated to all things audiobook. Make sure you check out the side bar on the right, too, for an audiobook listserv, Yahoo! group, and other audiobook bloggers.
Are you a blogger wanting to review audiobooks? Well, Oasis Audio has a fantastic program for you to consider. Here's the link for how to get involved, and the big bonus is that it's a direct download program — you can get started right away. If you review any of their products, don't forget to shoot a link to us so we can share, as well.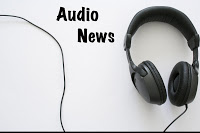 Back in May's AudioSynced, I introduced you to a few audiobook publisher/promoter Twitter accounts. I'm back with more this month, too. Check these guys out, both the professional and the amateur but passionate:
Audiobook Publishers Association @AudioPub
Listen & Live Audio @ListenandLive
Audible @audible_com
Audiobook Expert @audiobookexpert
HighBridge Audio @highbridgeaudio
Oasis Audio @oasisaudio
Salon.com offers up a collection of recommended children's audiobooks, just in time for summer reading programs. Gotta say, though, I *hate* the line "technically it's not reading," because audiobooks ARE reading. But I digress.
Mary at the Audiobook Community has rounded up a list of interesting posts and insights about audiobooks in June. You can check that out here.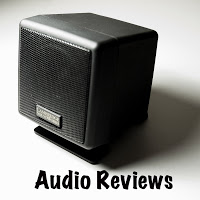 We can thank Jen at Devourer of Books for the week of audiobook celebrations. Jen's time and energy in organizing a week of nothing but audio was well worth it and well appreciated: check out the discussions and reviews if you're a new audiobook listener or a seasoned one. There's something to learn and think about in each day's topics. Click the Mr. Linky associated with each of the day's topic posts to check out some great discussions, both on the topic and on other topics relating to audiobooks: Why Audiobooks; How to Write an Audio Review; An All-Audio Meme (We talked about different narration styles, which you can read here); When You Listen to Audiobooks (We talked about promoting audiobooks); and Favorite Audiobooks (We talked about audiobook formats)
You can read all of STACKED's reviews and contributions to Audiobook Week right here.
Adult Titles
Carin offers us a review of Balzac and the Little Chinese Seamstress by Dai Sijie.
Abby offers us an adult review on her blog! You can check out her thoughts on Julia Child's My Life in France.
Young Adult Titles
Melissa offers us a few titles this month, including Jumped, The Short Second Life of Bree Tanner, Being Nikki, Witch and Wizard, and Numbers.
Whitney at Youth Services Corner offers up a review of Gabrielle Zevin's Memoirs of a Teenage Amnesiac.
Middle Grade Titles
Shelf Employed brings us a review of the 6th book in the 39 Clues series.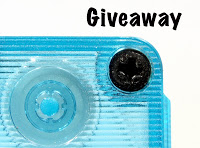 Want to win an Audiobook? Here's your chance. AudioSynced has a copy of Christopher Paolini's Eragon on audio to give away. Enter below with your favorite audiobook, favorite narrator, OR your favorite place to listen to audiobooks. If you haven't listened to an audiobook yet, you can enter, too, by sharing why you haven't. Winner will be selected August 1 — just in time for our next AudioSynced. And naturally, we'll share your answers to our burning questions.