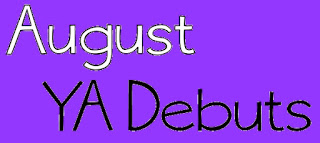 The summer tends to be a slower time in the book world, and that's reflected in the fewer number of debut novels there seem to be to talk about these last few months. But there are some in August, and it's a great time to catch up on
the titles out earlier this year
before the fall season brings them out in abundance.
As always, I define debut novel as the author's first book within any category, not just YA. If I've missed anything from a mainstream publisher, let me know in the comments. All descriptions are from WorldCat, unless otherwise noted.
Gates of Thread and Stone by Lori M. Lee: To save Reev, Kai must unravel the threads of her past and face shocking truths about her brother, her friendship with Avan, and her unique power. She will leave the only home she's ever known and risk getting caught up in a revolution centuries in the making.
The Girl From The Well by Rin Chupeco: Okiku has wandered the world for centuries, freeing the innocent ghosts of the murdered-dead and taking the lives of killers with the vengeance they are due, but when she meets Tark she knows the moody teen with the series of intricate tattoos is not a monster and needs to be freed from the demonic malevolence that clings to him.
Wordless by Adrianne Strickland: After helping Khaya, the Word of Life, escape from her prison, seventeen-year-old trash collector Tavin Barnes joins her on the run, attempting to prevent Khaya's captors from using the Words for world domination.
The Islands At The End of The World by Austin Aslan: Stranded in Honolulu when a strange cloud causes a worldwide electronics failure, sixteen-year-old Leilani and her father must make their way home to Hilo amid escalating perils, including her severe epilepsy.
Let's Get Lost by Adi Alsaid: During her cross-country adventures following the tragic death of her family, Leila touches the lives of four strangers — Hudson, Bree, Elliot, and Sonia. While forever changing the lives of these four, Leila also discovers an important truth about herself.
The Revelation of Gabriel Adam by S. L. Duncan: Seventeen-year-old Gabriel Adam is used to moving a lot. When a mysterious assassin burns his home to the ground Gabriel's father reveals the truth of why they are always on the move: Gabriel is one of four Archangels, born human and sent to stop Armageddon. Now, Gabe must set aside dreams of attending NYU to try to fulfill his newly discovered role as protector of mankind.