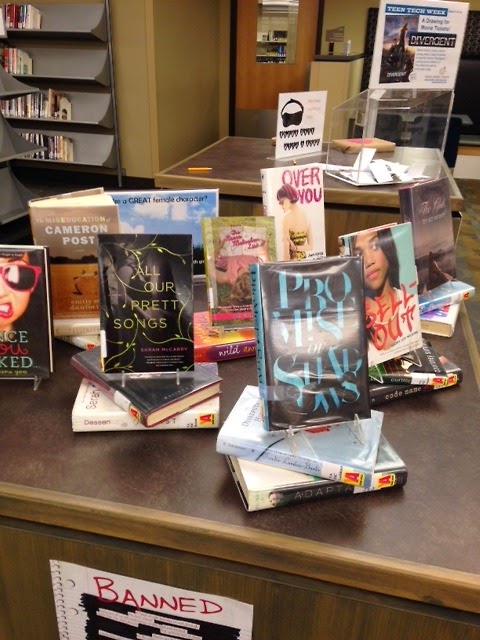 Pictured above: the displays I did in our teen area for women's history month. Rather than stick to historical novels about females, I thought it'd be more fun to do a display of books featuring great girl characters. When I went back the day after I took this picture, I saw it had been nicely picked at, which makes me so happy.
I promised that I'd do a roundup of links other people had written that fit into the "About the Girls" series, and I'm going to put those in this biweekly roundup. If I missed something, leave a comment and let me know. This is going to be long, so prepare a couple cups of coffee or tea and settle in. First, the general links of note:
Jeanne wrote a really thought-provoking post about the DFTBA scandal, too. Read this post, read the updated post she links to, and definitely read the comments.
Curious about raw numbers when it comes to bestselling books? Here's PW's facts and figures for the bestselling 2013 books (which raises a lot of questions in my mind regarding the New York Times Bestsellers list now — why wasn't Rick Yancey on there longer? Why wasn't Sarah Dessen on there longer?).
I know I've shared this before but I'm sharing again because I love this series. Sarah Thompson's still running her fantastic "So you want to read middle grade?" If you're like me and know nothing about middle grade or if you're a huge fan, this series of guest posts are excellent.
Jennifer Rummel wrote a really excellent post for The Hub this week that traces British women's history through YA fiction. Check it out.
I often forget what a wonderful resource Pinterest can be for readers. One of the best Pinterest accounts out there, Lee & Low's, is one you have to have on your radar if you're looking for diversity in your collections, in your reading, or in your reader's advisory. This is a goldmine.
Matthew Jackson, who has written for us a few times, has an excellent column up at Blastr talking about 21 YA novels that pack a genre punch. This is especially for those readers — adults — who are skeptical about how well-written YA fiction can be.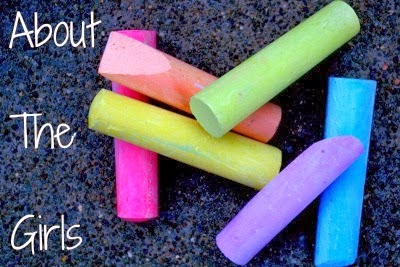 So I'd made a call for people to feel free and write about girls in YA any time during our series and I'd round them up. I am going to miss some posts, so please, alert me to others if I have. And if you're still so compelled to write on this topic, do let me know when you post, too, and I'll try to include it in a future link round up.
Liz Burns on female friendship in YA fiction, including three books she loved about girl friendships and she asks for input on more (with suggestions in the comments).
I had a teacher in touch with me about how she used two of last week's posts about unlikable female characters to spark a discussion in her classroom as it related to the book they were currently reading. She was even kind enough to share with me the classroom verbatim, and this discussion — with teenagers — is so fascinating and exciting and I hope it elicits other similar conversations with teen readers.
Sarah Andersen is working on something with her students and their reaction/interaction with gender and reading and I cannot wait until she shares more about it. That feels like such a tease of a sentence, but she's been polling her female students about their reading lives and experiences and influences to see what, how, and where gender and what they've been taught may impact them. This should be fascinating.
My posts elsewhere:
I was out of town when last week's Book Fetish ran on Book Riot, but here it is. There's something here for your Harry Potter fans and your fans of making cookies.
I rounded up the things I wrote in relation to being on the Printz ballot, including a new guest post at Abby the Librarian about more favorite Printz honor titles, over on my Tumblr.